«Before you judge me and my life, put on my shoes and walk my way!»
Indigenous american wisdom
«Viel zu spät begreifen viele die versäumten Lebensziele:
Freuden, Schönheit und Natur, Gesundheit, Reisen und Kultur.
Darum, Mensch sei zeitig weise! Höchste Zeit ist's! Reise, reise!»

Wilhelm Busch, 1832 - 1908 (dt. Zeichner, Maler und Schriftsteller)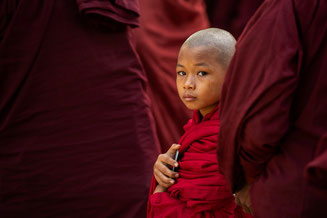 November 30, 2018
We have spent two weeks from the 12th until 25th November on a photo tour in Myanmar. It is the Golden Land with all the phantastic golden pagodas and stupas. It is a land of many, many friendly people and if you send a smile you will receive a smile back. We started in the largest city Yangon with the impresive Shwedagon Pagoda. Next important stop was the Golden Rock, one of the three most important pilgrim site. After a flight to the north of Myanmar we have taken pictures of the one leg fishermen at the Inle Lake. The Inle Lake with the floating gardens and the villages on the lake have much more interesting photo motives. Next stop was in Mandalay with the King palace and other large pagodas. For sure Bagan was the highlight with its full moon festival, the ceremonies at the Shwezigon Pagoda, and last but not least the balooning over Bagan with its more then 3800 pagodas and stupas. Our trip ended in Yangon and we say thank you to Jenny from Amazing Views, Min Min the local guide and the two professional photgraphers K.K. in Yangon and Ko Thet in Bagan.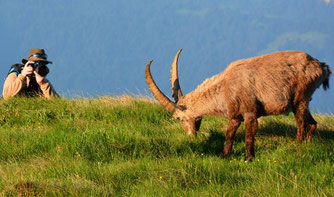 January 1st, 2018
I wish all visitors of my web pages a wonderful and peaceful year 2018.
This year I will start my first trip to New Zealand and I will spend some days in the Bernese Oberland, taking pictures of the Alpine Ibexes on the Niederhorn (the picture shows me close to an Alpine Ibex).

Since end of November 2017 my first picture book "Steinböcke auf dem Niederhorn - Alpine Ibexes on the Niderhorn" is available and can be bought via E-Mail under Contact, or you will visit the Niederhorn.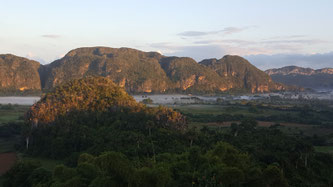 December 26, 2017
We are back from a four weeks trip to Cuba. Start and end was in Havanna. We have seen the impresive Mogotes in Viñales, spent two nights on Cayo Levisa, took pictures of birds in Las Terrazas and night pictures of the pitoresk Palacio del Valle in Cienfuegos, have visited the old town of Trinidad, went via Camagüey and Bayamo to Santiago de Cuba and have visited the the grave of Fidel Castro, hicked with Dr. Alberto Garcia González through the National Park Alejandro de Humboldt in Baracoa and enjoyed a few beach days in Guardalavaca.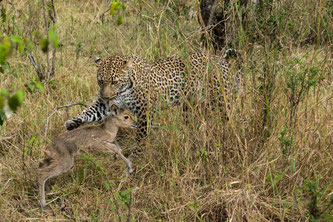 July 23, 2017 Circle of Life
It is sad to see a Leopard playing with a young Reedbuck before the Leopard will kill the young Reedbuck. The Reedbuck does not understand what is going on. It does not realize that a Leopard is a predator and not is its mother. But this is the circle of life. It is also the circle of life, when five cheetahs kill a Eland calf, to satisfy their hunger or when white-bearded Gnus, Topis and Zebras crossing the Mara River and were killed by Nile Crocodiles or get injuried while they jump into the river.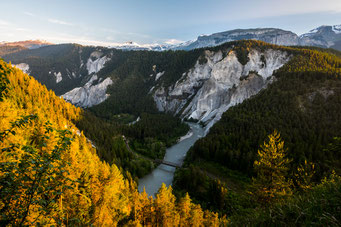 May 26, 2017
10,000 years ago, 10 billion cubic metres of rock thundered into the valley. Known as the Flims Rockslide, this event created the Ruinaulta, a canyon-like gorge in the Anterior Rhine Valley that can be reached on foot, over water, by train or by bike.
I spent four days in the Flims, Versam and Vals region to photograph the breathtaking landscapes of Lake Cauma, the Ruinaulta and the Mount Zervreilahorn.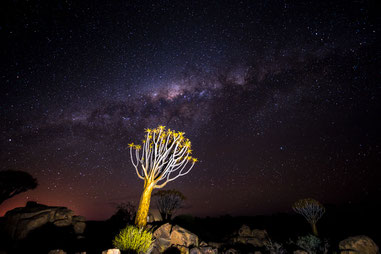 October 26, 2016
The first few new pictures from my trip to southern Africa are now published on www.belimago.net. In the next few weeks more pictures will follow.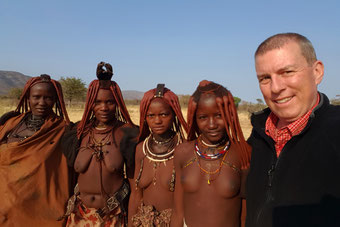 October 17, 2016
Just this morning in Zurich landed, after a six-and-a-half-week trip through Namibia and South Africa.
It was fantastic to be two weeks with the Himba in Kaokoland in the north-west of Namibia.
We have been there far away of the usual touristic pathes and we have met wonderful people. With a few Otjiherero words and my body language I was able to go into interactions with the Himbas.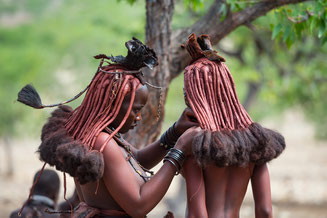 September 1, 2016
I am starting my trip to Namibia and South Africa. The first two weeks I am traveling and take photos in the Kunene region. Together with my Namibian guide Dijongo Zaire (Famous as "Bahee" from Tommy Jaud bestseller "Hummeldumm") we are visiting several Himba communities.
The second two weeks I spend in the southern part of Namibia, in the South African Kgalagadi Transfrontier Park (KTP), in the Augrabies Falls National Park and in the Namaqua National Park (hopefully to see the blooming wild flowers).
For the last two weeks I am flying over from Windhoek to Johannesburg. I will attend the EcoQuest 14 days course with EcoTraining in Makuleke section on the most northern part of the Kruger National Park.
August 22, 2016
I was shocked. I found on the Internet a website with a portrait of a wildlife hunter named Stephan Stamm.

Next to pictures with him and hunted game I found the following text: "You can say that Stephan Stamm has hunting roots deep within his blood. Since he was a young boy living in Switzerland his father would take him along on his hunts in Europe and his safaris in Africa and this is where Stephan's deep passion for African hunting began. Since then Stephan has hunted many African species himself including taking the Big 5 before founding Heritage Safaris and becoming a dedicated PH."

With this Stephan Stamm, also from Switzerland, I have absolutely nothing to do. I condemn the hunting of protected wildlife. Only qualified and authorized gamekeepers are allowed to hunt. I am supporting and donate for a wildlife conservation project in Botswana. For me it is unbelievable that people hunt protected wildlife like the Big 5 just for fun.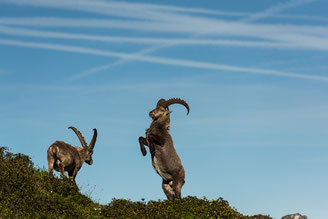 July 5, 2016
I am back from my short trip to the Niederhorn in the Bernese Oberland. It was great, to see so many Alpine Ibex at one place. And as you can see on the picture, it is spring time and the young Ibex males are fighting against each other. They do this on smallest cliffs, where they can fall up to 100 meters deep.
At sunset I enjoyed the wonderful view to the famous mountains Eiger, Mönch and Jungfrau. It was so peaceful.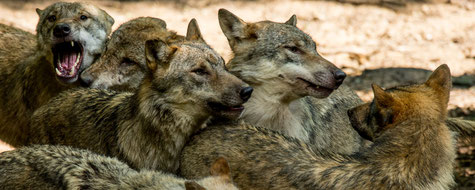 July 1, 2016
I have spent a day in the Wildlife Park Zurich Langenberg (Switzerland). When you arrive in the Park at Sunrise you can feel and enjoy the awakening of nature. Some wildlife is active like the grey wolves and the lynx, while others are laying around like the Elks and the Alpine Ibexes.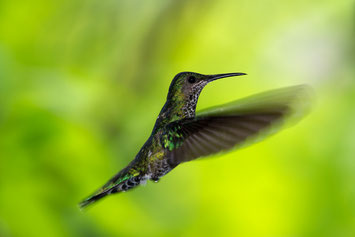 March 30, 2016
We are back from Costa Rica. Three and a half weeks we have travelled from the Central Valley to the shore of the Caribbean Sea, north to the Caño Negro Wildlife Refuge, to the shore of the Pacific Ocean and through the high mountains back to the central Valley and San José. Wonderful landscapes, from beaches to volcanos, from lush greenery to dry brown, from Sea level to high mountains. We have seen a colorful birdlife and a very interesting wildlife with mammals and reptiles.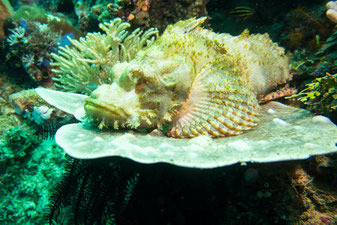 November 10, 2015
What a colorful and beautiful marine life. We have spent three weeks in North Sulawesi (Indonesia) with Scuba Diving.
April 11, 2015
I am Up again - back from Down Under. Five weeks in Sydney, in the Blue Mountains, in the Hunter Valley, in Melburne, on Kangaroo Island, in the Red Center, on the Oodnadatta Track and in the Flinders Ranges.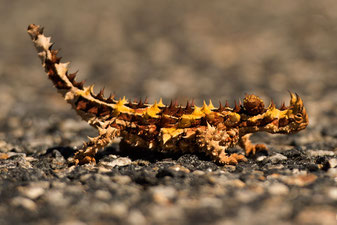 A short story from the Uluru-Kata Tjuta National Park:
I was on the return journey from Kata Tjuta (Olgas) to the Uluru. There was something on the road. I stopped my SUV, ran back and there it was. The Thorny Devil. It crossed the street. I layed down on the road. Keeping one eye on the Thorny Devil, the other eye I have directed on the road, so I will not get hit by another vehicle.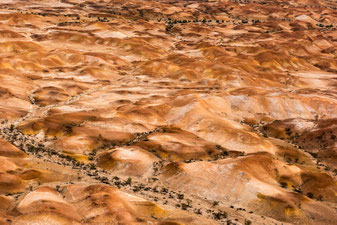 The Painted Desert is an ancient Inland Sea bed where the hills are the result of rain, weather and erosion. The slopes and shapes include many different colours and shades of orange, yellow and white, and it is the coloured shale on the faces of the hills from which the name "Painted Desert" came. The various shapes are formed when the top layers of soil dry out and fall away to reveal the beautiful rich colours underneath.
There is no possibility to drive to the Painted Desert. So I have rent a pilot and a plane and flew over the Painted Desert in the early morning hours. Unfortunately the sun did not show up and the sky was cloudy.
August 23, 2014
In a few days, I start my trip to the National Parks in the east of Las Vegas. I will visit Grand Canyon, Arches, Canyonlands, Capitol Reef and Zion. Another Highlight will be taking photographs in the Antelope Canyon near Page.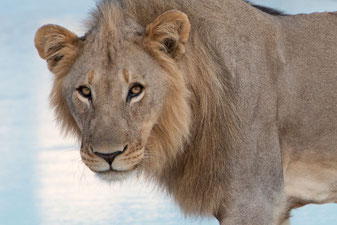 25. Februar 2014
Seit vier Tagen sind wir wieder zu Hause. Im Gepäck mehrer Tausend Bilder und viele Erlebnisse. Nun geht es ans selektieren und ausmisten, denn dafür war auf der ganzen Reise zuwenig Zeit. Erste Bilder werden bald auf www.belimago.net veröffentlicht.
3. November 2013
In zwei Wochen geht es für 3 Monate auf Fotosafari ins südliche Afrika. Start und Ende ist in Kapstadt. Zuerst geht es quer durch Südafrika in den nördlichsten Teil des Krüger Nationalpark, wo zwei Trainings bei EcoTraining (EcoQuest 14 Days und Wildlife Photography 7 Days) stattfinden. Anschliessend geht es nach Botswana in das Central Kalahari Game Reserve, in den Nxai Pan Nationalpark, ins Moremi Game Reserve, in den Chobe Nationalpark und ins Okavango Delta. Nach dem Grenzübertritt nach Namibia stehen ein Besuch im Etosha Nationalpark, der Waterberg Region, der Region vom Ugab River, von Spitzkoppe, Swakopmund, Sossusvlei, des Transfrontier Nationalpark, Keetmanshoop, Lüderitz, des Fish River Canyons auf dem Plan. Anschliessend führt uns der Weg zurück nach Kapstadt.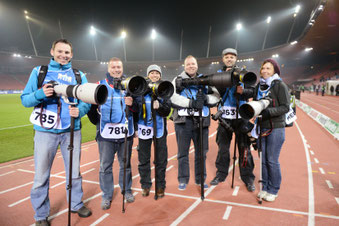 April 6, 2013
It was one of the highlights during my studies of photography. With our teacher Andy Muller, we had the opportunity to work as an accredited photographer in the SFL Super League game between FC Zurich and GC Zurich. This photo was taken by Andy Muller as a reminder of a great class on a great evening.
29. September 2012
Heute startet die zweiwöchige USA-Fotoreise zu den Nationalpärken in Nevada, Utah, Arizona und Colorado mit Stefan Forster. Dabei besuchen wir das Valley of Fire, Zion Nationalpark, Bryce Canyon Nationalpark, Capitol Reef Nationalpark, Dixie National Forest, Cathedral Valley, Goblin Valley State Park, Arches und Canyonland Nationalpark, Great Sand Dunes Nationalpark, Mesa Verde Nationalpark, Monument Valley, Horseshoe Bend, Alstrom Point, Antelope Canyon, White Hoodoos und den Grand Canyon Nationalpark am North Rim.
14. Juli 2011
Die Abreise in die USA nähert sich. Als Fotograf gilt es sich nun vorzubereiten, wo sind die wirklich interessanten Motive, die sicher abgelichtet werden sollen. Wann ist an den entsprechenden Orten Sonnenaufgang beziehungsweise Sonnenuntergang. Haben wir das Glück einen Vollmond an einem interessanten Platz zu erleben? Bereits gebucht haben wir von hier aus die Campsite für die erste Nacht sowie die Foto-Tour durch den Antelope Canyon in Page. Alles andere wollen wir möglichst spontan erleben.
22. Februar 2011
Kaum zurück aus den Ferien geht es an die Planung und Buchung der nächsten Ferien. Im August/September geht es für vier Wochen in den Westen der USA. Start und Ziel unserer Rundreise mit dem Wohnmobil durch die Nationalparks der USA ist San Francisco. Zuerst müssen wir nun Wohnmobil und Flug buchen und dann können wir uns der Planung von weiteren Details widmen. Ganz bestimmt werden wir wieder mit wunderbaren Aufnahmen zurückgekehren.
18. Februar 2011
Belimago.net feiert den 3. Geburtstag.
12. Februar 2011
Vor einer Woche sind wir von den Malediven nach Hause gekommen. Es hatte uns zurück auf Helengeli und zu den wunderschönen Tauchplätzen im Nord-Male-Atoll gezogen. Dabei konnten wir bei schönstem Wetter meinen Geburtstag bei einem Dinner for Two am Strand feiern. Obwohl wir einen späteren Zeitpunkt als ein Jahr zuvor gewählt hatten, meinte es das Wetter nicht viel besser. Das Wasser war noch nicht klar und noch etliches Plankton schwebte im Wasser. Trotzdem haben wir den Manta nur vom Tauch-Dhoni und nur weit entfernt gesehen. Jedoch gab es sonst viele schöne Begegnungen unter Wasser.
30. September 2010
Die Tauchsafari mit Unterwasser Fotoworkshop im südlichen ägyptischen Teil des Roten Meers sowie die Woche im Strandhotel in Marsa Alam sind zu Ende. Bis zu vier Tauchgänge, meist mit Unterwasser-Fotokamera, haben wir pro Tag gemacht. Dabei ist auch das eine oder andere schöne Foto entstanden. Es war ein spezielles Erlebnis eine Woche auf einem Tauchschiff zu leben. Nicht ganz einfach war teilweise die Enge auf dem Schiff, auf der anderen Seite profitierten wir davon, dass wir jeweils schon am Tauchplatz übernachteten und somit am Morgen ungestört von anderen Booten tauchen konnten. So kammen vom Early Morning bis zum Night Dive vier Tauchgänge pro Tag zusammen.
5. Juli 2010
Am kommenden Wochenende geht es nun für vier Tage in die britische Metropole nach London. Die Wettervorhersagen sind phantastisch. Das Wochenende wird geprägt sein von Sonnenschein, keine Spur des englischen Regenwetters. Selbstverständlich werden wir mit der Kamera all die Sehenswürdigkeiten aus allen Perspektiven festhalten.
21. Januar 2010
Zurück von 2 Wochen Tauchferien über den Jahreswechsel auf Malediveninsel Helengeli, geht es nun darum die neuen Unterwasseraufnahmen zu sichten und die besten Bilder auszuwählen. Am Schluss soll wieder ein neues Fotobuch entstehen. Auf Helengeli haben wir mit Caroline und Rolf, Birgitt und Patrick sowie mit Ernst und Bea neue Freunde gefunden. Nach den ersten paar verregneten Tagen hat sich das Wetter gerade zu Silvester von seiner besten Seite gezeigt und uns anschliessend in der zweiten Woche beste Bedingungen geboten.
5. November 2009
Nun sind die ersten Bilder aus Botswana zu sehen. Aus diesen Bildern ist auch der Fotokalender 2010 entstanden. Beim Kauf dieses Fotokalender gehen CHF 10.00 an das Leopard Ecology and Conservation Projekt der Schweizer Zoologin Monika Schiess. Bilder von in Freiheit lebenden Leoparden und Löwen in Botswana sind bald nur noch möglich, weil Monika Schiess im Khutse Game Reserve in der südlichen Kalahari ein Schutzprogramm für diese Raubkatzen betreibt. Sie lehrt die lokale Bevölkerung ein friedliches Zusammenleben von Mensch und Raubkatze und entwickelt mit den Menschen vor Ort, wie sie ihr Vieh vor Angriffen der Löwen und Leoparden schützen können.
11. Oktober 2009
Vor vier Stunden sind wir aus Johannesburg kommend in der Schweiz gelandet. Im Gepäck eine Menge neuer Bilder und im Kopf eine Fülle von Eindrücken. Innerhalb der vier Wochen haben wir vier Länder besucht (Südafrika, Botswana, Simbabwe und Namibia) und haben 5'500 Kilometer mit dem 4x4-Fahrzeug zurückgelegt. Bis nun die Bilder auf der Website erscheinen, müssen diese gesichtet und die Besten ausgewählt werden. Danke für die dafür notwendige Zeit.
29. August 2009
In zwei Wochen werden wir in Südafrika gelandet sein, das 4x4-Fahrzeug von KEA übernommen haben und auf dem Weg nach Botswana sein. Die Fotoausrüstung ist ergänzt und vieles vorbereitet. Noch sind wenige Pendenzen zu erledigen. Die Spannung steigt - wir werden kribbelig - und freuen uns, dass es bald losgeht.
5.Juli 2009
Die Reisevorbereitungen sind schon weit fortgeschritten für die geplante Fotosafari in Botswana. Aber noch immer sind einzelne Sachen zu beschaffen, die Fotoausrüstung zu ergänzen und wir hoffen noch immer, dass jemand uns Gastrecht auf seinem Standplatz auf der Savuti Camp Site gibt. Denn hier heisst es von offizieller Seite noch immer Fully Booked.
8. Februar 2009
Flug und Mietfahrzeug sind gebucht. Am 11. September startet die einmonatige Reise nach Botswana. Nun gilt es noch die Unterkünfte zu buchen und weitere Detailplanungen vorzunehmen. Bereits sind einige Anpassungen an der ursprünglichen Route geschehen. So geht die Reise nicht am westlichen Rand des Okawangodeltas entlang in den Caprivi-Streifen zu den Victoria-Fällen sondern durch das Moremi Game Reserve und den Chobe National Park. Geplant ist wieder ein Fotobuch-Projekt.
18. Januar 2009
Die nächsten Reisepläne konkretisieren sich. Es soll ins südliche Afrika gehen. Start und Endpunkt der Reise ist Johannesburg (Südafrika). Anschliessend geht die Reise nach Botswana in die Central Kalahari. Dabei ist ein Abstecher ins Khutse Game Reserve geplant, wo Monika Schiess ein interessantes Leopardenprojekt (Leopard Ecology & Conservation) betreibt. Weiter soll die Reise an der westliche Seite des Okawangodelta entlang und durch den Caprivi-Streifen zu den Victoria-Fällen führen. Auf dem Rückweg sind ein Besuch des Chobe Nationalparks, ev. ein Abstecher ins Okavangodelta und zur Nxai Pan (Salzpfannen) geplant.
5. Januar 2009
Die Unterwasseraufnahmen aus dem Roten Meer der Region Berenice (südlichstes Ferienressort in Ägypten an der Küste des Roten Meeres) sind nun online. Die besten Bilder habe ich ebenfalls im Fotokalender 2009 verarbeitet.
6. November 2008
Die Bilder des Hotels Lahami Bay Beach Resort in Berenice (Ägypten) von den letzten Tauchferien sind nun online. In einigen Wochen werden auch die entsprechenden Unterwasseraufnahmen folgen.
4. März 2008
Belimago.net wurde mit aktuellen Bildern der letzten Australienreise ergänzt. Es sind weitere Tierbilder, neu besuchte Sehenswürdigkeiten in Westaustralien sowie Unterwasserbilder vom Ningaloo Reef dazugekommen. Ein besonderes Highlight war der Jahreswechsel in Sydney mit den zwei Feuerwerken um 21 Uhr und um Mitternacht.
19. Februar 2008
Kaum Zuhause zieht es einem wieder in die weite Welt hinaus. Konkrete Pläne bestehen keine, doch Ideen sind bereits vorhanden. Wer uns mit Informationen und Tipps zu Namibia/Botswana aber auch zu Mexiko/Guatemala weiterhelfen kann, ist eingeladen sich bei uns zu melden. Im Gegenzug können wir mit Informationen zu Australien und Südafrika aufwarten.
18. Februar 2008
Belimago.net ist online. Ich freue mich, meine Bilder mit interessierten Personen und anderen Fotografen zu teilen. Über jeden Kommentar freue ich mich.
2. Februar 2008
Am 26. Januar sind wir nach vier Wochen aus Australien zurückgekehrt. In unserem Gepäck auch mehr als 1'000 Bilder. Einerseits Fotos vom Silvester-Feuerwerk in Sydney, aber auch Fotos aus Westaustralien (aus Perth, Fremantle, Margaret River, verschiedenen Nationalparks im Norden von Perth sowie Unterwasseraufnahmen aus Exmouth).
18. Dezember 2007
Die nächste Reise wird nach Australien gehen. Ziele sind Sydney, Perth, Margareth River, Kalbarri National Park, Monkey Mia, Coral Bay, Exmouth, Ningaloo Reef.
10. Dezember 2007
belimago.net ist «under construction»